Licensed Professional Counselors Association of North Carolina - Event Information - Licensed Professional Counselors Association of North Carolina
Event Name:
Annual Advocacy Day Training
Event Type(s):
First Friday Free CE Member Webinars
Continuing Education Opportunities

Description: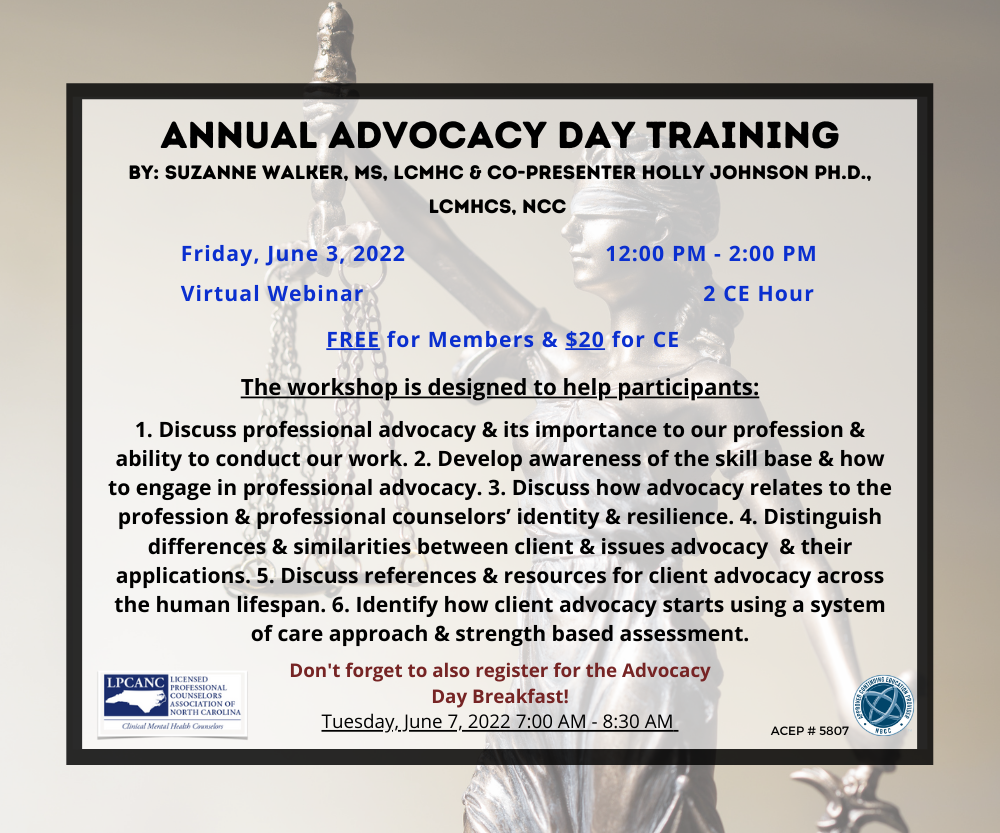 Event Time:
12:00 PM - 2:00 PM Eastern
Details:
EVENT:

The workshop is designed to help participants:
1. Discuss professional advocacy and its importance to our profession & ability to conduct our work.
2. Develop awareness of the skill base and how to engage in professional advocacy.
3. Discuss how advocacy relates to the profession and professional counselors' identity and resilience.
4. Distinguish differences and similarities between client and issues advocacy and their applications.
5. Discuss references & resources for client advocacy across the human lifespan.
6. Identify how client advocacy starts using a system of care approach & strength based assessment.

PRESENTER:

Suzanne L. Walker, MS, LCMHC
is the Immediate Past President of LPCANC. A graduate of the University at Albany of New York with a MS in Counseling Psychology. Suzanne retired from the US Dept of the Army as a civilian working at Fort Bragg, NC and Korea with complex trauma and co-occuring disorders. Over the last 38 years, Suzanne specialized in complex and high acuity cases ranging from co-occurring disorders, trauma, psychoses and neurobiological brain disorders. In the past 4 decades, Suzanne provided professional clinical mental health counseling services in six states and South Korea. Having served in multiple clinical director positions, clinical management and supervisory level positions for over 30 years, Suzanne valued the opportunities to lead multidisciplinary teams focused on performance improvement, patient rights, credentialing, quality assurance and improvement initiatives and accreditation processes. Her experience ranges from direct clinical provider and supervisor to behavioral healthcare management in private practice clinics, county, state, and federal public government sectors. Over three decades as a military spouse and family led to many military relocations which provided many military-family challenges, culturally diverse experiences, and a wide-array of work experiences that augmented her knowledge and appreciation for all aspects of the clinical mental health counseling profession. For the past 20 years. Suzanne has held various committee chair and leadership positions in LPCANC and AMHCA with an ardent focus on advocacy, supervision and licensure standards. Suzanne has been LPCANC President three times and Advocacy Committee Chair for 10 years, and AMHCA 2016 President and Advocacy Committee Member. Suzanne's keen interest with professional and personal advocacy began over 35 years ago after multiple professional and family experiences ranging from civil rights challenges, discrimination and denial of services. These adversities provided many opportunities to find new ways to address a problem yielding new growth through advocacy. Over the last 3 decades, Suzanne has presented on many counseling topics ranging from advocacy, clinical supervision, system of care, professional leadership,various clinical mental health topics and best practices, strategic planning and organizational development.
Dr. Holly Johnson is a Licensed Clinical Mental Health Counselor and Supervisor in the state of North Carolina. She has a B.A. in Psychology from Regent University, an M.B.A. from Western Governors University, a M.A. in Professional Counseling from Liberty University, and a Ph.D. in Counselor Education and Supervision from Regent University. Dr. Johnson was inducted into Chi Sigma Iota, an international honors society for counselors. Dr. Johnson is an active member of several professional counseling organizations and is a National Certified Counselor (NCC). She has been working in higher education since 2010 and is the founder of a non-profit agency that provides hunger relief, advocacy, and counseling to impoverished individuals. Dr. Johnson was named Morganton Citizen of the Year for her work in social advocacy and was a Nonprofit Leader Excellence Award recipient. Dr. Johnson has clinical experience in working with adults, adolescents, and children in both agency and private practice settings. Areas of experience include personal growth, inner healing and trauma, marriage and family, grief and bereavement, sexual abuse/sex offender treatment, and life and career transitions.

PROVIDER INFORMATION:

LPCANC
605 N. Terrace Place
Morganton, NC 28655
(919) 714-9095
info@lpcanc.org
www.lpcanc.org