Licensed Professional Counselors Association of North Carolina - Event Information - Licensed Professional Counselors Association of North Carolina
Event Name:
Impact of Trauma on the Therapist and How Supervisor Can Help
Event Type(s):
Home-Study Courses (LCMHC-S Specific)

Description: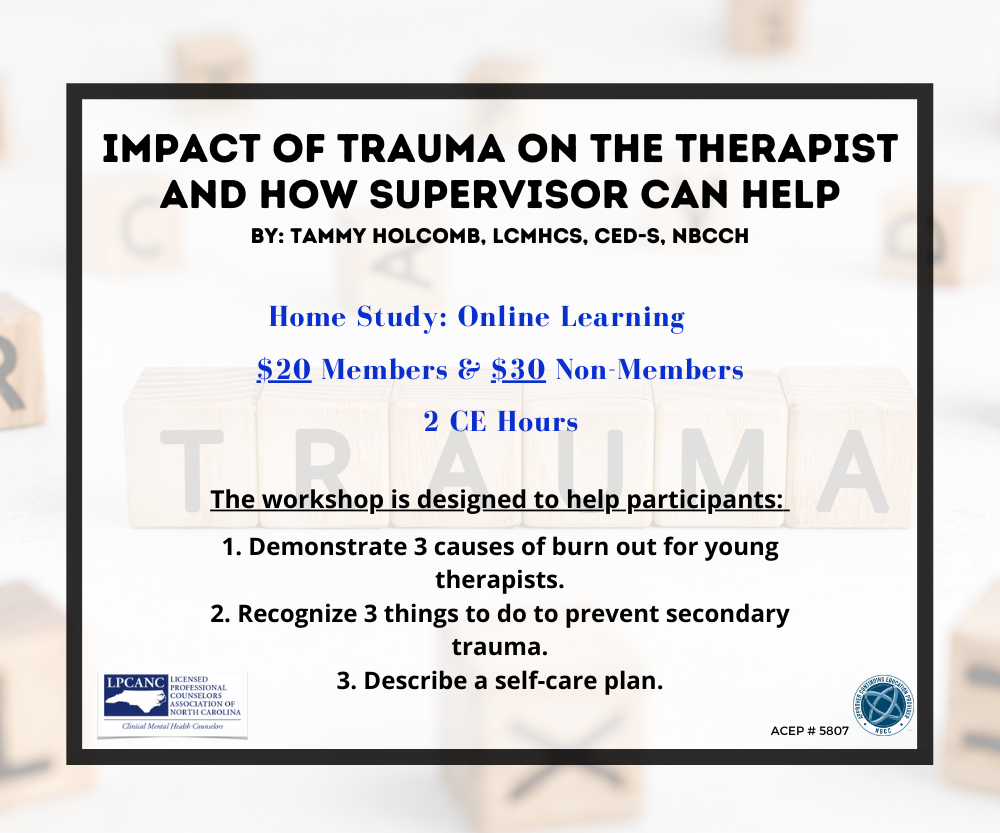 Event Date:
5/21/2022 - 5/21/2050

Location:
Home Study Course: Online Learning

Details:
EVENT:
This presentation will review the impact that trauma has on therapist at different stages of their career. It will address ways that supervisors can best support supervisees and help them prevent secondary PTSD.
The workshop is designed to help participants:
1) D
emonstrate 3 causes of burn out for young therapists.
2)
Recognize 3 things to do to prevent secondary trauma.
3)
Describe a self-care plan.
PRESENTER:
Tammy Holcomb, LCMHCS, CED-S, NBCCH
, has worked in the behavioral health field for more than 30 years. Her clients seek her help for a range of issues, including trauma and addiction, relationship concerns, sexuality, depression, grief, self-esteem, anger management and parenting. She is best known for her work with eating disorders and trauma and has presented nationally on these topics. Tammy's therapeutic approach is collaborative and authentic. She helps clients set specific objectives to address during therapy and works with them to determine the style and pace they prefer. She understands that some people need more direction, education and challenge than others. She believes in a therapeutic relationship of respect, honesty, openness and compassion. Tammy enjoys working with clients of different ages and ethnic, cultural and educational backgrounds. Professional Experience Tammy began her professional career working in an acute care psychiatric facility in 1987. From this experience, she developed a natural rapport with people in crisis. She has maintained close relationships with local psychiatric facilities and community services centers throughout her professional life. Tammy opened a private practice for the first time in 1993 with Cobb Counseling Associates in Marietta, Ga. She established her practice while working at a variety of agencies, including the Council on Battered Women, Manna Treatment Center, Ridgeview Institute and Skyland Trail. She co-founded the Atlanta Eating Disorder Coalition in 2003. Most recently, Tammy worked as the Executive Director and CEO of Carolina House eating disorder programs in Durham and Raleigh, where she managed a staff of 55 and served up to 32 patients in residential and intensive outpatient settings. She held this position for 3 ½ years prior to opening Stargazer Counseling in 2016. Shortly after moving to the Raleigh area in 2012, Tammy started and facilitated a local Anorexia Nervosa and Associated Disorders (ANAD) support group in Raleigh. This group continues to meet on a weekly basis. Tammy has been a primary speaker at several North Carolina schools and universities on topics such as trauma, eating disorder and sexuality. Tammy strongly believes in early education to prevent childhood abuse and the development of eating disorders and addictions in families. Tammy has been to many states to present to organizations such as the Southeastern Eating Disorder Conference, the International Association of Eating Disorder Professionals, the Georgia College Counselors Association and Iowa Eating Disorder Coalition Conference. Currently, Tammy volunteers with her local IAEDP Chapter and the Licensed Professional Counselor Association of North Carolina.
PROVIDER INFORMATION:



LPCANC
605 N. Terrace Place
Morganton, NC 28655
(919) 714-9095
info@lpcanc.org
www.lpcanc.org